"Thermoforming"---- This word sounds unfamiliar to us.
Actually, many food containers, blister pack, automobile components, home electric appliances and industrial trays in our daily life are made by thermoforming.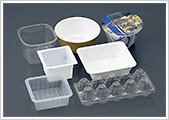 Food container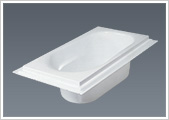 Bathtub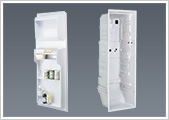 Door liner of the refrigerator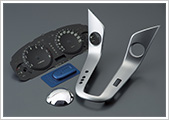 Automobile components
Heated plastics get soften and cooled plastics become hard. Thermoforming uses these plastic's features.
1,

Heat plastic sheet

2,

Tightly cover: softened plastic sheet onto mold.

3,

Vacuum the air in the mold in order to evacuate the air

4,

The plastic sheet is formed according to the mold's shape
At the same time, by blowing compressed air into the mold the plastic sheets transform shapely.
That calls pressure forming.

Thermoforming has mainly three kind of heating: radiant heating, contact heating and hot air heating. Asano Laboratories Co., Ltd. deals with radiant heating and contact heating.
Radiant heating is the way that the heater transmit the infrared radiation to heat the plastic. This way of heating is suitable for food container, industrial tray, home appliances and automobile component etc.
On the other hand, the contact heating is the way that hot plate heats the plastic. Because the sheet is fixed between the mold and hot plate, this way of heating is suitable for the sheet which shrinks deeply or automobile components which has high precision print.